about
Based in Fukuoka Prefecture, Japan, we provides specialty fruit products in season from Kyushu Region.
We work directly with trusted local farmers to select the finest of the locally grown produce and to ensure consistent quality and taste across all the ingredients we use.
This requires masterly craftsmanship that is stimulating to those who work with us as part of our team as well as to our suppliers and clients.
Our quality panel, including members from local authorities, sensures that our high quality standards are met in every aspect of the product cycle - from growing a variety of fruit to the moment when consumers enjoy our products.

High quality Japan's top brand fruit
For a company specialized in fruit products, using high-quality seasonal fruits is of utmost importance.
Enjoy our products made from Japan's top brand fruit.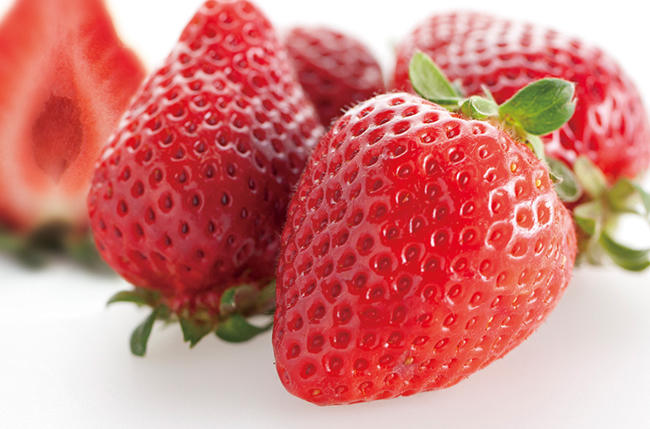 Amaou
Strawberries
"Amaou" is high-quality, top brand strawberry of Japan grown only in Fukuoka Prefecture. The strawberry is big and red, having a delicious flavor with amazing balance of sweet and acid. Amaou has gained a great reputation not only throughout Japan but also from abroad.
Akiou
Persimmon
"Akiou" is the first seedless sweet persimmon in the world born in Fukuoka. Only carefully selected companies with authorization can purchase valuable Akiou persimmons for processing. Try the products of the first authorized processor of Akiou persimmons!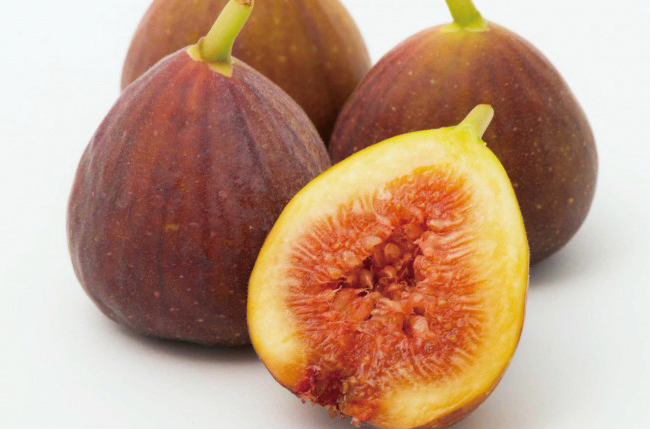 Toyomitsuhime
Fig
"Toyomitsuhime" is known as the sweetest fig in Japan. There is nothing like the unique taste and texture of Toyomitsuhime. They are lusciously sweet with a texture that combines the chewiness of their flesh, the smoothness of their skin, and the crunchiness of their seeds.
The best taste and quality
Quality of the fruit products is our top priority, and we offer only what we consider to be the best in taste and health,
Under stringent quality control and close supervision, we offer high quality products to our customers.

with no unnecessary preservatives or ingredients.

PRODUCTS
Pure Fruit Chips
Our Pure Fruit Chips are tasty and healthy snacks at any time of day. These gently dried snacks have a sweet and juicy flavor and are good sources of vitamins and minerals with no sugar added. Pure Fruit Chips not only provide valuable nutrients such as vitamins and minerals but also substantially contribute to healthy digestion. Fruit variety packs featuring strawberry, pear and persimmon are available.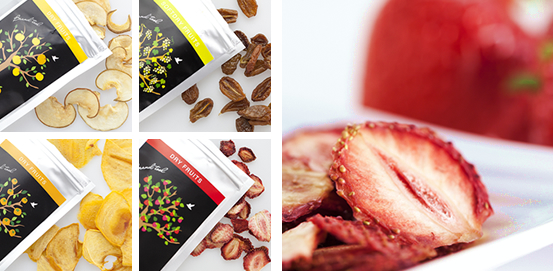 Pure Semi-Fruit Chips
Our popular products, Pure Semi-Fruit Chips are amazingly similar to their fresh counterparts in texture and firmness, yet they also possess a certain concentrated sweetness, making them extra delectable. Semi-Fruit Chips are just as they sound—partially dried at low temperatures and immediately frozen to lock in their flavor. Prepared in the traditional way without any artificial colorings, flavors or preservatives, each bite contains the crystal clearness of sunlight and the fragrance of fruit.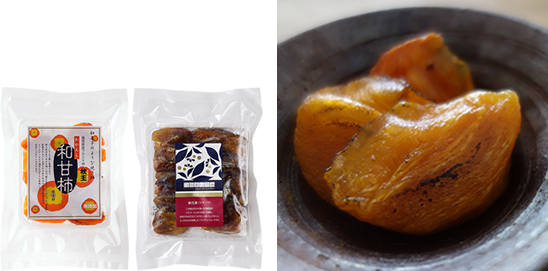 Fruit purée
Our fruit purée are the first in Japan to be made from the fruit of Kyushu brand. fruit purée are produced purely from the sweet, tart flavors of fruit. No preservatives, sugar, or water added. We adjust the taste only by the sweetness and acidity of the fruit so that they can be stored at room temperature (25°C or below) for two weeks. Enjoy the great taste of refreshing smoothie made with strawberry, pear and kiwi, citrus.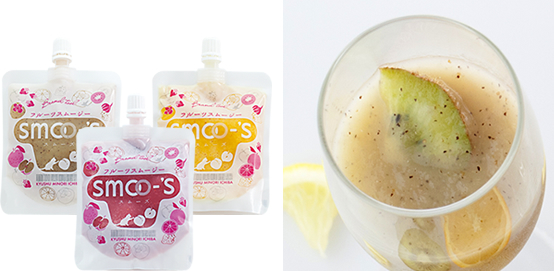 Working in partnership with a number of trusted farms & suppliers, we ensure our products meet stringent quality standards.

We ship to anywhere within Asia and most international destinations.